Hello Friday, how I'm so glad I am off today and get to enjoy you. Once again linking up to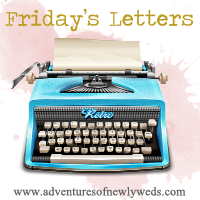 Dear Hubby, how is it that I fall in love with you more & more everyday? Thank you for being you and for being my biggest supporter and always acting as a team. You always seem to make me laugh and I adore you quick witted sense of humor- yes even if it's at my expense.
Dear 50 Shades of Grey, I know I mentioned you last week but I almost finished with the first book and you have me wanting more! I want to know where this "relationship" is going to go. Okay and I have to admit I may have bit my lip with my husband but he didn't find it to be a turn on. haha. But that's as far as I will go.
Dear Life, it's funny how things play out. I was never a big believer in karma but I am now a believer because you know what it does happen and it's funny to see how it can bite back. I never wish evil on anyone but you want to throw things in my face well then don't live in a glass castle where my stones can easily make your castle tumble.
Dear Chicago Weather, Yes it's been HOT HOT HOT but I'm lovin every minute of it! Plus it helps me get my tan on!
Dear Self, I know we'v had this love/hate relationship recently with my body but I think keyword here think I'm starting to come around an accept it. I'm not in love with it or embrace but at the end of the day what is a girl to do when she works out 6 days a week 2 hours a day?? Only a couple more weeks until we see a Dr and get some true hard hitting answers.