Hi Ladies! Okay so first of all I apologize for being spotty this week I just had a hectic work schedule and to be honest didn't plan out my time the best to write posts- I promise that I will be on my A game next week! Promise.
So it's been a few weeks that I did Friday Letters and quite frankly I've totally missed it. Once again I'm linking up with
Ashley
for: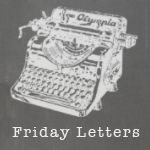 Dear Chipolte:
We had a steamy love affair but it's time to take a little break because quite frankly my stomach can't take it much longer. So this is first week of no steak bowl and I have survived thus far.
Dear No Doubt:
Okay so I bought their new CD this week
I'll be honest at first I was
totally
disappointed however I told myself that I would play it on repeat for a couple of days and then make my final decision. I am so glad that I did because it's actually a GREAT cd and well worth it!! Way for a good comeback No Doubt!
Dear Hubby:
You know I love you with all my heart however I would have never of guessed when I said YES to your proposal that I signed up for all this drama- I feel like I'm living the real life of Real Housewives of New Jersey (and for the record I'm NOT Teresa I am Melissa who is getting steam rolled by his family) but what would you do without me? You can show your appreciation by buying me this great wedding band I found. . . nothing wrong with a 3rd wedding band
Dear Real Housewives of NJ:
Gosh how is it that your reunions are just as good as the last 12 weeks of your season?? I mean please don't tell me I'm the
only
one here who thinks Teresa is CRAZY?? I really hope they don't ask her back next season because she is like talking to a wall.
Dear Work:
Now the stress begins, I am HR this quarter which I love however I am not looking forward to hiring the 35 people I need to run a successful holiday. Can 35 people please fill out apps and be normal and over achieving and I can hire you on the spot? Thanks!
Dear Mexico:
2 more weeks! Need I say more??