Good Morning Friday! I am so happy to see you because I am off today and I have to be honest it feels so good to wake up at your leisure on a Friday morning. I'm once again linking up with Ashley for: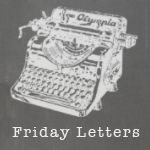 Dear Barbell for Boobs:

AHH!! You are tomorrow and I am so so nervous about it. I seriously have had nightmares about not finishing (even though I did "Grace" on Monday in 5:14) in the 10 minutes time cap. I am hoping for the best I have a super cute outfit and a great support group. I'm ready to tackle it tomorrow.
Dear New Jersey Housewives:

I swear you get crazier and crazier- is that even possible?? I cannot wait for the conclusion of this 3 ring circus. Just to be clear I'm totally Team Melissa! Without a doubt. And also on that note I'm sorry but Kathy's "new look" is horrible! I don't love the new nose & lips and wow did she pack on the pounds. I'm hoping that by the next season she will get back to her old look.
Dear G&B:

Can I seriously be you?? I adore their relationship and how they are with each other- not to mention he is the sweetest husband ever!! I read their book and I seriously needed to highlight & bookmark pages for my husband to show him how to be cute and romantic. He still didn't get it. I'm totes loving their new season too! Not to mention he is from Chi town and I totes want to run into them!
Dear Meixco:

OMG!! You're officially within getting excited start checking out from work time frame. I cannot wait to start packing my bags and getting ready to jet off on a plane to the sandy beaches. I'm going to cook up one nice tan and get some much needed R&R.
Dear Frozen Yogurt Shop:

I just discovered you near my house (bad thing very bad thing) and you instantly became an obsession- how do I know this?? Well I booked it (yes I admit speeding) from three towns over because we had to go to Costco back to our town to get to the frozen yogurt shop before they closed. I made it with 3 minutes to spare I would like to add. I need to tone it down because it's not Paleo and quite frankly you're killing my bank account. Plus you changed your flavors yesterday and I had a hard time choosing because they were all pretty gross.
Dear X-Factor:

Yes I am a loyal fan but I have a bone to pick with you where the hell is Panda??? She was amazing!! Miss her audition here it is:
There is so much talent this year and now I have to wait until next Wednesday to find out who made it to live auditions?! It's killing me! I have my votes though.
Have a great weekend!!