Well hello there, let me tell ya I cannot be more thankful that I yes that is correct I fixed my little blogger glitch. Don't get me wrong I did consult some lovely techy blog friends to see if they could help me fix the issue but everyone was coming up with no solutions. So I was determined to sit down and tackle this. After a few swear words I finally got it all figured out!! We are up and running again ladies!!
So now to what else is important which is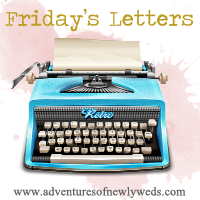 I really missed it last week so mine may be a bit longer than normal - I apologize in advance!
Dear Hubby:

Sorry for being 'mad' at you - even though you didn't officially know I was mad at you. I was just suddenly feeling so disconnected. However a 2 hour car ride across state lines will allow for anyone to get re-connected. Thanks for allowing a great two-way conversation. We are once again a Team!! Go J&M!!
Dear Paleo:

Oh, we meet again. Not sure how I feel about that. Well I'll be honest the first 3 days were complete and utter

HELL

(hell could be an understatement). The first 3 days I wanted EVERYTHING I couldn't have- my arm was even looking tasty at some points. I felt the exact same way the last time I went on the Paleo diet but it doesn't get any easier going threw withdrawals. I have successfully made it past the 3 days and with all my limbs in tact :) A post to come about some new recipes I've tried. I would also like to report how amazing I'm feeling now.
Dear Sponsorship: I finally pulled the trigger and did my first sponsorship. I had mixed feelings about it but thought I'd give it a try. I'm hoping to broaden my audience as well as gain some new followers.
Dear EC Notebook:

You finally came! I only tracked you about a million times but I finally have you. I'm going to post more about this amazing new tool and maybe even a giveaway

(hint hint)

.
Dear Pintrest: You have seriously become my new BFF. It took me awhile to get bought into you but now I'm

obsessed

. Thank you for taking over my life.