Happy Friday!!! Gosh I am so glad this week is over it was one hell of a week at work and quite frankly I am ready for my next day off. So once again I am linking up with
Ashley
for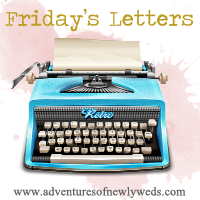 Dear Car:
Ugh, I finally brought you into the repair shop. I always get nervous and cold sweats when I head into the repair shop because I always fear what they are going to find. So when my wind shield wipers weren't working I really had no idea what that meant. So when they told me it was just a part (which cost $275) + labor I thought it could have been a lot worse. Well that great attitude was compromised because the next day I got a phone call saying not only was it the part but also the wind shield wiper motor. Really?? Who does this happen too. Just me I guess. So now a $420 repair bill turns into a $1100 but that also includes a new battery. Ugh. You better give me a break now because I'm sick of putting money into you.
Dear Hubby:
I love how when our neighbors brought us a box of chocolates you spent more time deciding on what piece of chocolate you wanted than probably you spent on writing our wedding vows. I hope that chocolate was worth it. You always seem to crack me up.
Dear Year End Bonus:
I really wanted to put you in savings because that is the responsible thing to do but with my recent car repairs and my lust of getting a new laptop you hitting my savings account is getting less and less. No no I will do the right thing- Savings.
Dear MacBook Pro:
Why do I feel the need to buy you? I really don't
need
you but seem to really want you. Let's talk about this- I have a Mac home computer and an iPad plus my old MacBook from college, which quite frankly still works and allows me to go online still and write my posts but doesn't have anymore memory left. Ugh Apple why do you do this to people?! Make us feel like we need some new product you come out with??
Have a great weekend everyone! Don't forget to check out my blog for Sunday Social.