Good Morning Friday! Gosh I can't believe it's the end of the week already, that means my stay-cation is slowly coming to an end. No fun. However because it's Friday I'm once again linking up for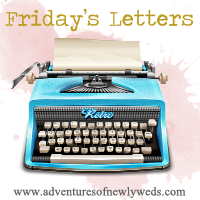 Dear Hubby:

I'm so excited that we got our passport application filled out and our pictures taken, now just file and wait and off to see the world together! Also thank you for loving every inch of me and being so supportive of me and my decisions. I know you'll always be my side through thick & thin and I cannot even express to you how much that means to me.
Dear Working Out:

You consumed me this week! But I loved every minute of it and wish I could spend all my days working out and being active.
Dear Self: Well I exhausted all my options with my ever battle of the weight gain- I eat healthy, work out everyday for at least 2 hours a day, and yet I'm still plagued with weight gain and pant size increase. Yes I'm very muscular and I like that however I still feel fat at times. I went to my last Dr. to figure out what's plaguing my body and came up with no answers. He gave me a list of options:
- Weight Loss surgery -- Are you kidding me?? That's just NOT for me
- Work out ore -- Unless I'm suppose to quit my full-time job I don't know how I can possibly work out more
- Go on the new FDA Weight Loss Drug -- I just don't feel comfortable putting something foreign in my body that we don't know the long-term effects of
- Accept it -- This seemed like the only safe and logical answer, after much soul searching and still coming to grips with my body I am learning to accept with what I'm graced with and move on.
Dear Justin Bieber:

Your new CD is AMAZING! No wonder why you were the highest paid celeb under 30 for 2011/2012. I mean I cannot stop hitting repeat, I even did my 30 mile bike ride listening to your whole CD and a few songs more than just once. Keep CD's like this coming!
Dear Weekend: WOW I actually have plans, what?! Normally the weekends I do have off (once a month) the hubby & I don't have plans or at least anything exciting. However this weekend we have plans for Friday, Saturday, and Sunday! This is a first. I'm going to try and take many pics to share at a later post.
Dear New Dress code: You're exhausting me both physically and financially. Thank goodness I have a pile of returns to make. I am in the final stages of finalizing my new dress code for work. I brought my jeans to the tailor to get hemmed, bought a new pair of shoes, and order my last and final blazer (from Forever 21- go figure). I also got my cardigans in from Lands End. On Friday launches our new dress code, hopefully it all comes together.
Hope everyone has a wonderful weekend!