Hello Blogging Friends! Oh how I've missed you! Words cannot even express how happy I am to writing a post because that means I have power! I will be writing a post for Saturday on the crazy storm we got hit with and the aftermath - long aftermath. Anyways, HAPPY FRIDAY! I'm off today, with power, AC, and life is good :) Let's get started with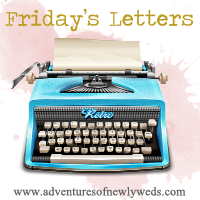 Dear 50 Shades of Grey: I'm half way through the 2nd book and am loving the series more & more. I honestly don't understand the people who say they hated this book. Maybe they haven't gotten to the 2nd book because quite honestly I just want to know what horrible things have happened to you Mr. Grey!
Dear Electricity People: I know you were just as hot as I was in the 105 degree weather but once I heard my power go back on I wanted to wave an American flag out to you guys because you were my hero's! 5 days of 100 + degree weather with no air conditioning, no breeze was pure and utter hell. Actually hell may have been better- not sure but it was horrible.
Dear Neighborhood: I love that now when I walk outside my door I don't have to hear every houses generator going, it's peace and quiet which is music to my ears :)
Dear New Dress Code for Work: Why have you become my 2nd full-time job?? I have all the pieces with the exception of the navy blazer. I have literally ordered 8 of them and all haven't worked out. I guess I'm going to have to go with the sweater option (I'm hoping there is a sweater option) and I also need to figure out my shoe situation. Quite frankly this is all becoming a little overwhelming. I really need photos here people.
Dear Heat: You Suck! And that's putting it politely, I am the first to love warm weather but this that you bring us is unbearable. It's so hot out that you can't even do anything, you're a prisoner in your own house. Well in my case my house is just as warm because our power is out. Which thank you for that because now I had to sleep in our family room (which is in a lower part of our house so it's cooler) however even under the carpet the floor is so hard that now my shoulder is killing me. I struggle to put a shirt over my hear. Ugh. Misery.
Dear Stay-cation: Sunday cannot come soon enough! Thankfully the weather will be nice so I can enjoy your sunshine, work on my tan again, and work out 24/seven. Life can't get any sweeter.
I hope everyone has a happy Friday & a lovely weekend. I can't wait to be back up & blogging.