Happy Friday
everyone! For those of you who have the weekends off I'm sure you can't wait to start your weekend, I am working this weekend but I have nice hours so hopefully I'll get to spend some quality time with the hubby. But let's get to it because we know that Friday also means I'm linking up with
Adventures of a Newlywed
for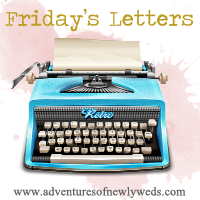 Dear Shark Week:
You have taught me a lot of knowledgeable information about sharks however I don't think it was a good idea that I watch all of this so close to my trip. For example that almost all shark attacks happen in water between 2-6 feet. Awesome! I may be doing my wind surfing in the one of seven pools.
Dear Pintrest App:
So I may be a little behind the Pintrest phenomena however I finally joined about 4 months ago and I just downloaded the app for my iPhone and I'm a
full
fledged
addict. I'm a pinning machine! I'll also have a really funny post about one of my Pintrest recipe adventures.
Dear Hubby:
Thank you for being so supportive of me and standing behind my decisions no matter how crazy they are or weather or not you believe in it you let me do it and figure it on my own.
Dear Starbucks:
Okay so I was so successful in giving you up and my wallet was thanking you however your Refreshers are just to good and refreshing to pass up. So good that I even reloaded my Gold Card. It was good while it lasted, hopefully this is just a phase.
Dear Birthday List:
So my birthday is a week from Saturday and normally I can come up with a laundry list of things that I want however maybe I'm really growing up because while there are plenty of things I want I ask myself what do I
need
and the answer to that is nothing. So I'm having a hard time coming up with some ideas for my birthday. Since I have the weekend off I'm thinking the hubby & I will go down and spend the day in the city and get some Sprinkle cupcakes and maybe get dinner.
I hope everyone has a great weekend! Thanks for stopping by.