Happy Sunday! I had such a fabulous weekend because I was actually off and it was my Birthday (yesterday) and got to spend it with the wonderful hubby :) Stay tuned for my post about my Birthday and lots of pictures to follow. So once again I am linking up with A Complete Waste of Makeup for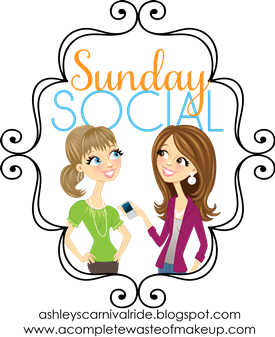 Here are this weeks questions:
1. What is the first website you log on to each day?
My homepage is AOL because it gives me the top news stories in different catergories as well as other news from around the world. I love my news.
2. Give us some funny webistes you visit that we need to know about. . .
I wouldn't say that I ever really visit any funny websites but I am such a celebrity gossip whore that I do have my go to websites like US Magazine, TMZ, and a new favorite Realitytea.
3. Pintrest or Facebook? Why?
This was hard for me- I would have to say Facebook, only reason is because I remember when Facebook started and you could only join if you were in college (yeah that was the old days). I have to say I am so glad I'm married and don't have to deal with dating while Facebook is so accesible. How you can so easily become a stalker without even realizing it. Plus I just started getting into Pintrest but I'm loving it so far.
4. Twitter or Instagram? Why?
Hands down Instagram, I love that you can change your photos, follow celebs, and share you pics with ease. I do need to take more pics though. That needs to be my 2013 NY's Resolution.
5. Favorite youtube video. . . post it!
I LOVE this video! I always laugh my butt off when I watch it.
6. Biggest online pet peeve?
When people are on Facebook Messanger and they don't ever respond back to you. Isn't the whole point of having the app so it acts like a text message? You message back!