Good Morning Dolls, well hopefully lot's of you will be reading this in the comfort of your home or bed waking up on this lazy Sunday. I am however at work- working a stretch but can't wait for my two days off in a row! Woo Hoo. Since last week I remembered to link up with A Complete Waste of Makeup for: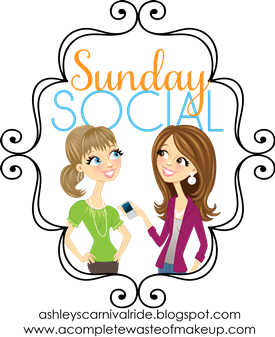 Here are this weeks questions:
1. What is your favorite Fall activity?
I love on my days off driving to my local Starbucks (we have an adorable downtown area in our town where the streets are lined with gorgeous trees that turn the most beautiful colors) and walking in the falling leaves and getting a Carmel apple cider. Yummy!!
2. Do you follow a football team? If so which one and why?
I'm not a die hard fan of any sports team, beacause I'm from and live in Chicago I do support the Bears but again couldn't tell you if a player was right in front of me. Actually funny story because about a year ago a man came into my work with two kids and he was big and looked like he was someone but I had no idea who. I was more interested in chatting with his kids because they were so cool. Come to find out it was Brian Urlacher.
3. What is something fun about Fall in your area?
Every year in my downtown of the town I live in we have a Christmas walk in Novemeber. Where all the little shops stay open late and serve hot chocolate, apple cidar, cookies, and people are singing carols. Gets me ready for the holiday season.
4. Fall Favorite outfit staples?
Oh gosh, I have this fabulous cashmere knit pull over sweater, my favorite long leggings, and my motorcycle boots or lepoard ballet flats.
5. Things you are looking forward to most about this coming Fall season?
All the great new and favorite old TV shows returning. Haha.
6. Favorite Fall holiday? Traditions?
Um... I really don't have any. We don't have kids yet so we haven't started any traditions yet.