Hi Everyone! I am so excited that it's that time of the month to be linking up for the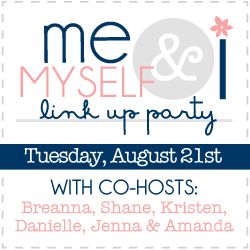 I linked up for the first time last month and had such a great response and enjoyed reading everyone's answers I couldn't wait for this months questions. In case you don't know what this link up is all about there is how it works:
-Link-up goes live the 3rd Tuesday every month and stays open for one week.
-There will be 5 questions to answer each month, posted in advance so that you have plenty of time to write a post.
-If you'd like them emailed to you, we'll put you down on the monthly mailing list.
-Add pictures to your post to spice it up a bit if desired :)
1. We ask that you follow each of the co hosts,
2. Pretty please grab the button and place it in your posts & perhaps put it into your side bar to help spread the word :) Don't worry, we won't kick ya out if you don't...we're not Blog Snobs ;)
3. Click on a few other bloggers and make new friends!
1) What would you attempt to do if you knew you could not fail?
I would go to law school to become a divorce attorney
2) If you had only six months left to live, what would you do with the time?
I would travel all around the world with my husband. With the traveling I've done thus far in my life I have enjoyed all the different cultures and seeing the beauty of the world. I would want to continue that and if I passed before then I would at least be out seeing the world.
3) If a front page news article was written on you, what would the headline be?
Compassionate, driven, fitness obsessed, woman who always has a smile on her face but don't let smile fool you she means business and can hold her own in any situation.
4) What is your biggest pet peeve?
So it took me awhile to think about this one, however it totally annoys me when I take time to enagage in conversation with someone and ask open ended questions to get to know them and they answer them but don't recepriocate and ask me questions. It probably doesn't help that I'm sales and have to engage people all day long so it's a breath of fresh air when someone actaully asks you a question.
5) What is your favorite chick flick movie?
Again this took me a couple days to think about however once I thought of it I started laughing right away. My favorite Chick Flick is The Sweetest Thing with Cameron Diaz and Christina Applegate. My best friend and I would watch this movie over and over. It's still funny to this day
Here is the trailer of the movie
Thanks for stopping by!!