Hello Friday! It's so nice to see you again this week, I'm actually working an opening shift today so I can celebrate the hubby's Birthday that was on Tuesday. Once again I'm linking up with Adventures of a Newlywed for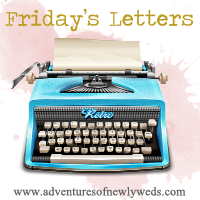 Dear Vaca:
I know I take a lot of you but it's really not my fault I have to take one every 3 months so I don't loose out. I know such a hard thing to do but it does get hard to manage I swear! However with my last two vacations staycations I was determined to go somewhere that had a beach and warm weather. So on Wednesday I finalized our vacation to Cancun Mexico! I cannot wait! Oct 21st cannot come soon enough. Be on the look out for a post more about this upcoming vaca.
Dear Hubby:

Happy Birthday again even though your Birthday was on Tuesday I just think you deserve a shout out again. You always amaze me how you give me full reign on a situation but then at the last minute you decide to add your two cents. Not sure what I'm talking about? Let me elaborate. .
Situation #1: When we were re-doing our master bedroom you told you didn't care what I did as long as you got your California King size bed and I gave you that. However once I bought all our decor and started arranging our room suddenly you became a interior designer and decided to show yourself. You weren't welcome.
Situation #2: I wanted to go on a out of the country vacation that included a beach- you told me you didn't care where we went to just tell you the dates and what to pack. Simple enough I can live with that. Then I decide on where we are going and when and I am at the travel agency about to pay for the trip and you get this sixth sense and decide to call me and now ask a million and one questions about where we are going and again suddenly become the jet setter with a opinion- again not welcomed.
Just trust your wife I have never mis guided you. . .yet.
Dear Work/Boss:

Thank you for a fabulous year-end review. I always go in thinking the worst but then again I think we are our own worst critic and I defiantly was happy about my review this year and my pay increase and my bonus. Thank you! I promise to deliver even better results this coming year.
Dear Mani/Pedi:

You're so blissful and you were exactly what I needed today! That pedicure felt amazing! Can't wait for my manicure next week, already counting down. haha.
I hope everyone has a great weekend!