Good Morning

Lovely Sunday- I can say lovely Sunday because I'm actually off today, Woo Hoo! While I have lots planned for this lovely day off like:
-Spending time with my mum
-Go on a long over due 30 mile bike ride
-Go for a run
-Do a Facetime with my best friend who lives in Austin because it's her Birthday!
That's a lot to do but I can't wait. So anyways let's get started for what really matters because as we know Sunday means it's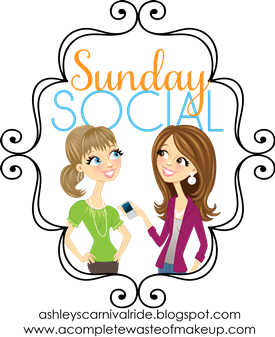 Here are this week's questions:
1. If you could only eat one thing for the rest of your life, what would it be?
Gosh this is hard! I think I would have to say either Lou Malnati's pizza (if you're from Chicago you know what I'm talking about- if you're not from Chicago then you're missing out!!) or Portillo's Chopped Salad. Yummy!!!!
2. What's your guilty pleasure/comfort food?
Ugh I have such a sweet tooth- to me a meal isn't complete unless you have dessert

Shh! Don't tell my trainers this

but I would have to say my guilty pleasure is Sprinkle Cupcakes! We just got one in Chicago about two years ago and thank god I don't live in the city or work in the city because I think I would go there everyday. However here are some photos of a recent trip there:
3. What's the weirdest/craziest thing you've ever eaten?
I'm not one to be a big risk taker when it comes to food, I like to know what I'm eating and I always have to smell my food if I'm unsure about it or if it's new. I guess though the craziest thing I've ever eaten- well took a couple of bites was when I was in Australia and I had a ostrich burger. I did not like it. And we tried Kangaroo- it tasted like chicken but considering I was just hanging out with Kangaroo's hours before out of the goodness of my heart I couldn't bear to eat it all.
4. What meal reminds you of your childhood?
I don't have one specific meal but I would say Sunday dinners remind me of my childhood. My parents were divorced but my mother being the wonderful woman she is always made a full 5 course meal every Sunday night so we could have family night with my dad. I know cherish those dinners because I lost my dad when I was 12 and it meant a lot to me that they were willing to put their differences aside to have a family dinner with my once a week.
5. Share one of your favorite recipes and the story behind it:
I don't have a story behind this other than a good friend of mine who I met at none other but the gym sent me this recipe because she knew I was handicap when it came to cooking and the kitchen, and let me tell ya it is a easy recipe!
1/2 bag of chocolate chips (I may use white chocolate next time, so I will let you know how that turns out )
Preheat oven to 325. Mix ingredients in order. Pour into nonstick loaf pan. Bake for 60 minutes o r until toothpick is dry when inserted into bread.
MUFFINS: Pour mix into cupcake cups, about 1/2 way, Bake at 325 for 30 minutes or until lightly brown on top.
Thanks for stopping by!!